December 13, 2011 at 23:44 | Posted in
Crafts - DIY
,
Stimulus
|
Leave a comment
Tags:
Christmas
,
Christmas Stocking
,
granny squares
,
how to
,
jersey knit fabric
,
prudent baby
,
stocking contest
,
stocking tutorials
Who doesn't like to dig in their stockings on Christmas Day?
This week I submitted two entries for a Christmas Stocking co ntest. Prudent Baby hosted the "Put a Serger in my Stocking" contest, where the prize is a SERGER. I like craft contests. It motivates me, besides winning or not, to create and stop putting off  projects for "when i have time" because they have a deadline. I guess I need tough love to craft

Anyway, the stockings needed to be made out of jersey/knit fabric, so I made mine from old t-shirts and scraps of even older t-shirts. The first one is made out of 65+ hand sewn (!) circles that I cut out of two of my husbands old donated T-shirts. The ruffles are like a garden of little holiday flowers.
And this one is for Paloma. I appliqued a flower (for joy), a heart (for love) and of course, a stuffed paloma (dove in Spanish, for peace and her). I also sewed ruffles at the top to make it a little more fun and whimsy.
I do hope to find the serger in one of them on Xmas Day! Of course, if it is in Paloma's stocking, she is still too small  to claim it, so I will be happy to claim it for her ; )
Here are a couple more ideas to make your own Christmas stockings.
Cluk Cluk Sew has a tutorial to make a lined stocking with a cuff.
Prudent Baby teach you how to crochet a stocking using granny squares.
Martha Stewart shows how to make one from a sweater.
No time or sewing skills? Try this easy no-sew idea over at A  Fanciful Twist.
Go ahead and be inspired. And let me know what did you find in your stocking in a couple of weeks.
October 12, 2011 at 23:55 | Posted in
Before and After
,
Crafts - DIY
,
Tutorials
|
9 Comments
Tags:
Alpargatas Argentina
,
before and after
,
Footwear
,
how to
,
shoe makeover
,
TOMS Shoes
Did you know that the original TOMS shoe are called "alpargatas" and are the characteristic footwear of "gauchos", the cowboys of Argentina? They are an Argentine trademark, and you can see them everywhere, worn by all kinds of people, from teenagers to the elderly, rich and poor .
I love alpargatas.  The other day I realized one of my beloved pairs is ripping on one side.  I knew I had another pair in the closet. The problem is, they are camouflage print. I bought them a couple of years ago when I was back home, even knowing I was not going to wear them often because I do not like camo print. But they are really comfortable and it was that or black ones in my size (I already had them in black) so I bought them anyway. And of course, I barely used them, until yesterday, when I decided to paint stripes on them. So for this new tutorial, I will show you how I did it.
You will need:
A pair of shoes, preferably canvas.
Metallic silver acrylic or fabric paint.
Black acrylic or fabric paint.
Brushes
Newspapers and drafting tape.
Start by stuffing the shoes with newspaper so they are firmer and easier to paint.
Cut strips of drafting tape and cover the shoes placing them at an angle at about 1/2 inch apart or the width of the tape. I chose to go all the way to the mid-sole too.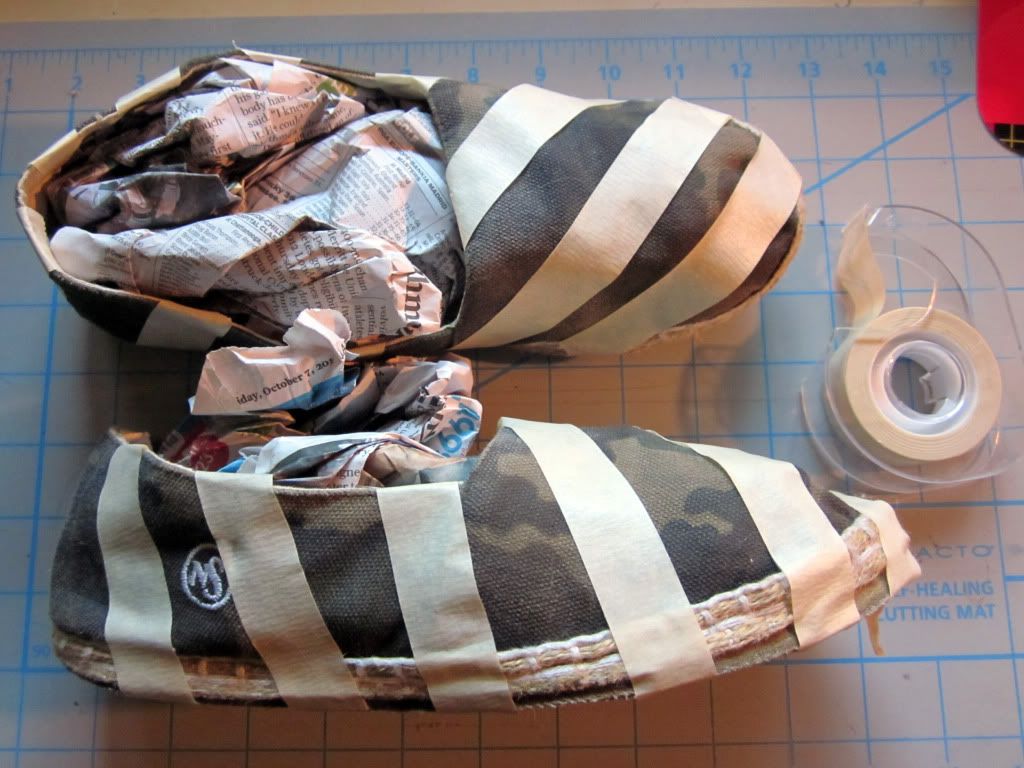 Paint the stripes with the metallic silver color, trying to be as even in the paint distribution as possible. (If you are using different colors than mine, paint the lightest color first. That way you can paint over with the darker if your stripes are not perfect or you have run-over paint.) You might need more than one coat if the original color of your shoe is dark.
Let them dry for a couple of hours outside.
Peel the tape.
Paint the rest of the stripes with black and let it dry once more completely. Check if you have any chunks of paint and if you do, try to remove them with an X-Acto knife. Put them on and take them for a stroll!
September 2, 2011 at 23:34 | Posted in
Crafts - DIY
,
Tutorials
|
8 Comments
Tags:
Crafts
,
flower
,
flower hair clip
,
flower hairband
,
free pattern
,
hair accesory tutorial
,
hair clip
,
how to
,
zara hair clip
A couple of weeks ago I went to Zara with my friend Julieta to help her shopping for some basics. Sorting through one bin of clearance stuff I found a nice fabric hair clip made of silk with raw edges. I though it was pretty cool and easy to make, and I didn't want to pay $12 ($12!) for it. So here it is!
You will need:
One 6″ x 12″ piece of silk (I use crepe Georgette Silk, but any kind of silk will do).
One 4″ x 5″ piece of felt of the same color.
Sewing machine or needles if hand sewing, scissors, thread
Download the free pattern and cut it out of the felt piece. Cut 12 1″ x 5″ strips out of silk.
Center and pin the strips into the piece of felt, overlapping them about 1/4 of an inch.
Once you pin all the strips, sew them straight down the middle across all the strips.
Now turn it 90 degrees and sew down the middle of each strip.
Now that you are done with the sewing, gather the whole thing with your fingers in the middle and secure it with a couple of stitches. You can hand sew this with double threaded needle or run it trough the sewing machine a couple of times.
Attach a hair rubber band to it and you are… finito!
Wear it!
Now kiss your baby and thank her/him for taking a nap so you were able to make it!
A big GRACIAS to Julieta once again for taking these gorgeous photos!
I would love to see if you make one. Please share it at the Mother Crafter Project Pool!
I craft all night and party everyday at these Craft Parties.
Blog at WordPress.com. | Theme: Pool by Borja Fernandez.
Entries and comments feeds.