April 23, 2012 at 22:52 | Posted in
Crafts - DIY
,
Stimulus
|
7 Comments
Tags:
Bold Fabrics
,
Crafts
,
Decorating
,
diy
,
DIY Curtains
,
Draperies and Curtains
,
Home
,
Sewing
,
Textile
Happy (belated) Earth Day! and Happy National Dance week! We had a great weekend, full of activities. I took a Vertical Dance Class, it was so much fun! but boy, I was sore all weekend (yes! that is me!). And then  we went to the Poi Fire Dance Expo in SF.
I hope you had a good weekend too!
Now back to business

One of the projects in my never-ending list of house projects are curtains. Curtains for the kitchen, the laundry room, the bedrooms… see… never-ending! I only made the ones for the kitchen and laundry room so far, from fabric I got at IKEA. Very colorful fun print and budget friendly.
I hung a beautiful batik cloth Michael bought a long time ago in the office, and I really like how you can see it both from the street and inside, so I think I will keep it like that (one less to do!).
I made these when we lived in the apartment, we chose a rich red color burnt-out fabric that paired really nice with the yellow walls (and with Bob the Super Cat too).
Curtains are relatively easy to make, depending on the style you choose. You can find some guidance about choosing the perfect curtain, calculating the yardage and more here, here, and here. Also, check out these tutorials.
Personally, I prefer the curtains to be bold, graphic and colorful, so here are more ideas I absolutely adore.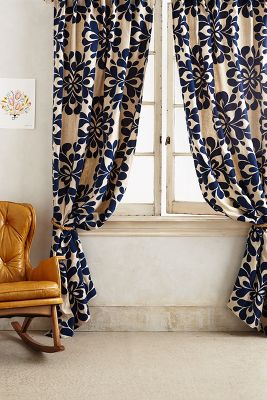 Do you make your own curtains? Do you prefer graphic or solids? Tell me!
Blog at WordPress.com. | Theme: Pool by Borja Fernandez.
Entries and comments feeds.