January 26, 2012 at 18:42 | Posted in
Crafts - DIY
,
Stimulus
|
10 Comments
Tags:
awesome valentine
,
blank canvas
,
Crafts
,
DIY Valentine
,
Do it yourself
,
Heart
,
Love Map
,
Mod Podge
,
Valentine
,
Valentine Day
,
valentine s day
,
Valentines Day
A couple of months ago I saw this fantastic frame in Pinterest and I knew right away I wanted to make one.

I think the idea is wonderful! And very romantic and cute, so I waited until now to make it so I can give it to my husband for Valentine's Day. It is an early gift, but he doesn't mind

Since I pinned it, I've been on the look-out to find some maps at my favorite recycle store here in the Bay Area, The East Bay Depot for Creative Re-Use. Not only do they have amazing crap all over the store, they are super inexpensive! I found the maps for 0.30 cents each! (I also found a powerful blender in like-new condition for $6, just in case you were wondering. Jealous now?)
Once I got the maps I needed, Michael donated a blank canvas to me from his art supplies and I put manos a la obra!
I painted the canvas black, cut-out the hearts out of the maps making sure you can see the name of the special cities. In my case, Barcelona, Chicago and the SF Bay Area. I printed the words in a font I liked (adding happily ever after for the last heart), and glued them along with the hearts to the canvas. I applied Mod Podge Matte-Mat to everything, let it dry overnight, and… Finito!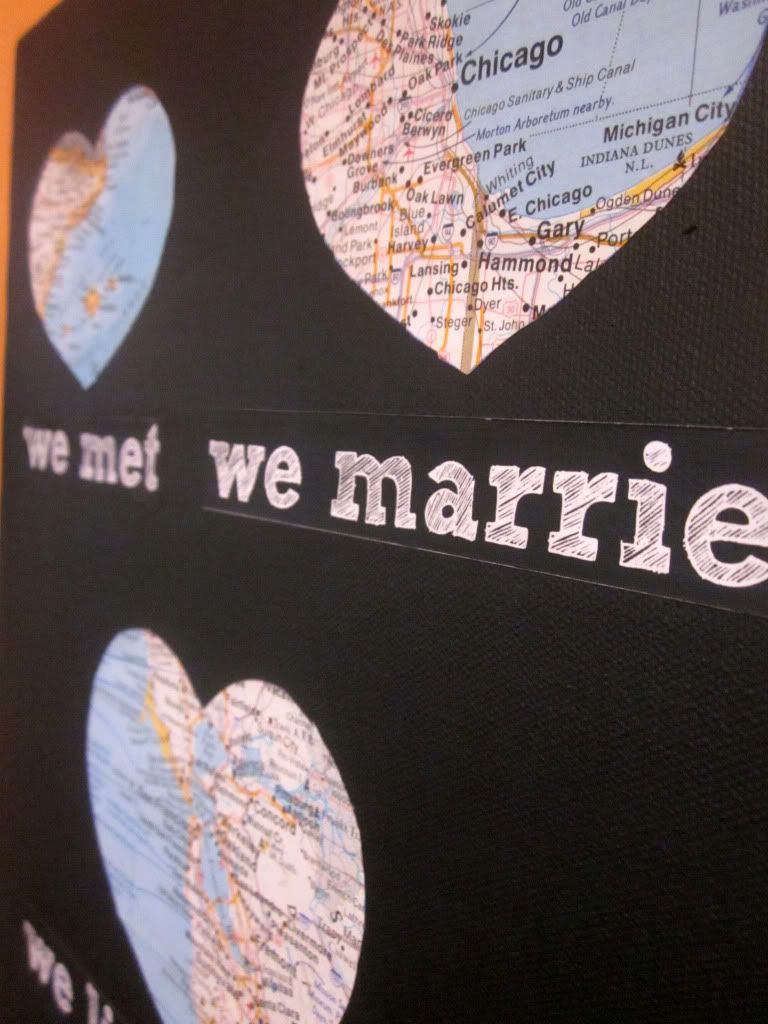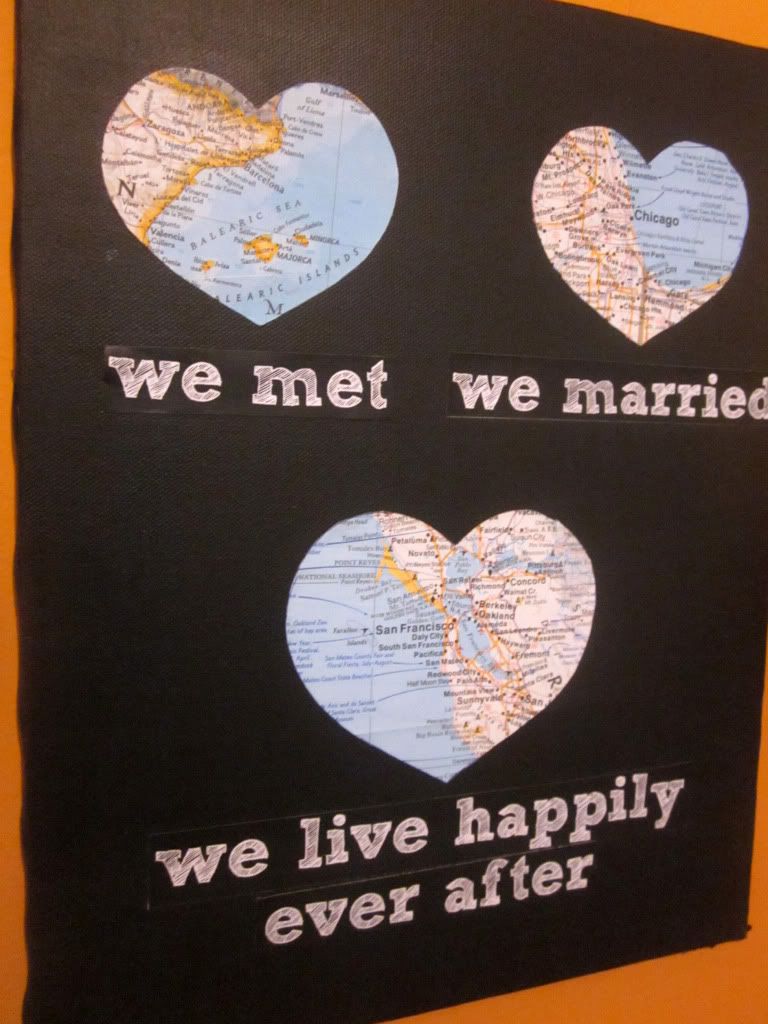 If you need a visual tutorial, visit Mimi Moz.  Thank you, Danielle,  for the stimulus!
I craft all night and party everyday at these Craft Parties. Check them out and party with us!
January 8, 2012 at 23:26 | Posted in
Crafts - DIY
,
Tutorials
|
11 Comments
Tags:
awesome valentine
,
craft
,
DIY Valentine
,
Heart
,
Tennis Racquet
,
Valentine
,
valentine s day
,
Valentines Day
,
Weaving
,
Woven Heart
Valentine's day  is almost a month away! From now until then, I will post projects and ideas for you to make your own Valentines.
The first project is this pretty cool  woven heart racquet.
This was actually a birthday gift for my friend Jennifer, who loves to play tennis and is really pretty good at it (she kicks ass). But it can also be a nice Valentine for anybody.
To make it, you just need to go to your favorite thrift store and look for a (preferably vintage) tennis racquet. I found mine at Goodwill, and it cost me only $2,99 (bargain!).  I am a visual person, so I needed to print a diagram at real scale to use as a guide. You can download the one I made here.
Then grab some left over yarn or ribbon you might have laying around, attach a safety pin to one end, and start weaving the heart through the strings of the racquet  following the diagram (I taped mine to it).
I started to do so horizontally, but that wasn't right. So I had to unweave it  and start again, this time weaving it vertically. DO NOT do it like this (see below) because the humps of the heart are not continuous.
Instead start on one of the sides of the heart (sorry, no pictures). My yarn was chunky so I only needed it to weave the same line of squares two times (up and down), But if whatever  you are using is thinner, you will need to weave up and down as necessarily to fill the squares.
And ta-da! You now have an awesome Valentine for your love one! Easy and very, very inexpensive.
Did you make one? Show me by uploading it at the Mother Crafter Flickr Project Pool!
I craft all night and party everyday at these Craft Parties.
Blog at WordPress.com. | Theme: Pool by Borja Fernandez.
Entries and comments feeds.